FRIDAY & SATURDAY FEBRUARY 24-25, 2012
The 2nd year of UNITE TO DESTROY Fest will be featuring:
FRIDAY
7:00-7:20: BOMRAW
7:30-7:50: GALL
8:00-8:20: DISSENT
8:30-8:55: DEADLY REIGN
9:10-9:35: WILD//TRIBE
9:50-10:20: DODSFALLA
10:35-11:05: LAUGHING DOG
11:20-11:50: CATHETER
12:05-End of Show: PHOBIA

SATURDAY

PUNX PICNIC from 1pm-6pm @ Spotts Park (

http://www.facebook.com/

events/362772223735698/)

7:00-7:20: VERSKLAVEN
7:30-7:50: ABDUKTION
8:00-8:20: TURBOKRIEG
8:30-8:50: ALIMANAS
9:05-9:30: RITUALS
9:45-10:10: PORKERIA
10:25-10:55: KONFLICTO
11:10-11:40: TOLAR
11:55-End of Show: KEGCHARGE

7PM - Shows will start punctually and bands will play their allocated slots! So show up on time!

All proceeds will benefit EZLN & SEDITION BOOKS after gas payment for out of town bands!

Show cover will be $7 per day, or $12 for both days
Ran by punx, for the punx!

SPREAD THE WORD, BRING YOUR FRIENDS
Sunday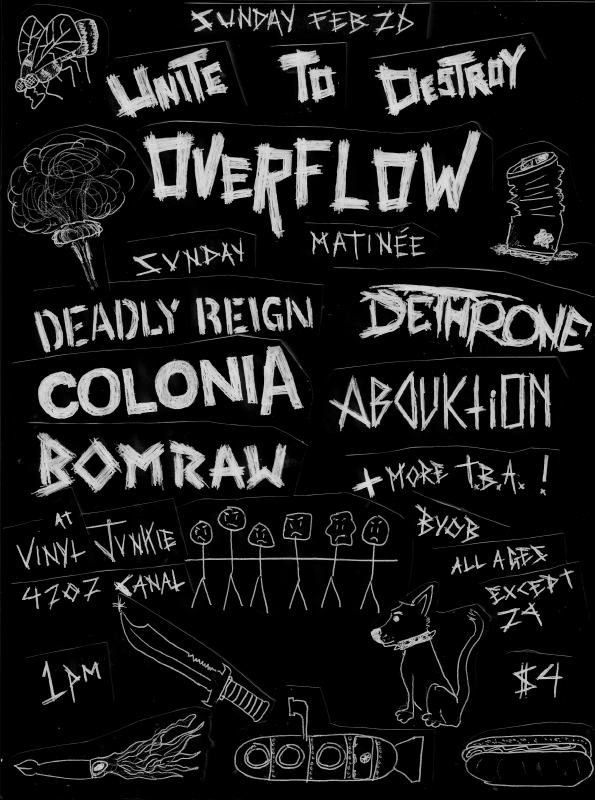 The final show of the UNITE TO DESTROY(
http://www.facebook.com/

events/286558094717685/
) weekend! Your last chance to rage, if you're still in one piece!!!
DEADLY REIGN (atx)
DETHRONE (atx)
COLONIA (satx)
ABDUKTION (now with more d-beat!!!)
BOMRAW (fresh off the surgery table!!!)
+ more TBA

Music will start promptly at 2pm, so get yer busted hungover ass to Vinyl Junkie on time!!!

All-ages//BYOB//$4 donation to help get the out-of-town bands home

PRINT, REPOST, AND DISTRIBUTE THIS FLYER:



http://

img.photobucket.com/albums/

v77/kutch/SUNDAYFEB26.pn
Black Shit Noise will be attending this year's United to Destroy fest in Houston TX February 24-25. We will be their with a full distro table.